Tool Box Talk App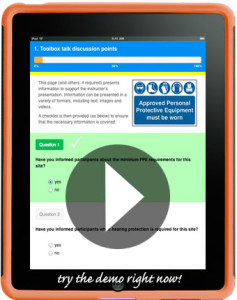 The Tool Box Talk Pre-shift Checklist mobile app has been developed to help you check certain criteria before starting work. The information checklist can be tailored to your specific site and updated as required. This new Inductus product helps you communicate safety information, and helps you meet your WHS compliance requirements!
Key features of the app include:
Secure login
Option for multiple Tool Box Talk topics under the one login
Toolbox talk topics display a list of the check points that have to be checked off before completing the talk
Records the date of talk and attendees' names
Records any extra comments, concerning issues raised during the talk
App can be accessed on any device with an internet connection including smart phone, tablet and computer
To register interest in this product please
please contact us
. A guide to the Tool Box Talk App price can be found on our
quotes page
. Inductus' new Tool Box Talk App was designed and developed out of a NSW grant. It is designed to help managers meet WHS compliance requirements for Tool Box Talks.